We joined a gym at the end of last year, when one of the cheap gym chains opened a gym ten minutes walk from home, and I decided that it was the perfect excuse to make some custom exercise tees. I didn't actually need any new tees, as cute/cool t-shirts are the one ready-to-wear item I buy regularly/can't resist, but once the idea was in my head it was irresistible.
During lockdown, I exercised quite regularly to Jane Fonda's original 80s workout video ("don't forget to breath") and I figured that, if I was going to exercise in the gym instead, I should take some Jane Fonda inspiration with me (plus a playlist of 80s pop).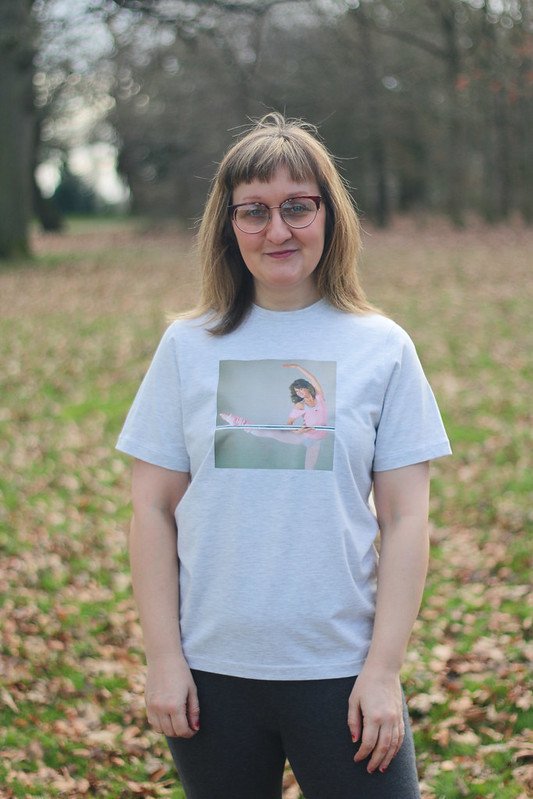 I pondered which t-shirt pattern to use, briefly, before realising it should obviously be the Seamwork Jane tee, which I've made twice before (here & here, both adorned using screen printing). It was harder than I expected to find high resolution images of Jane Fonda in 80s workout wear (I was determined to have bodysuits and legwarmers in the pictures), but eventually found two images I was happy with via image search.
I initially tried printing the images using home printer transfer paper, but the image quality was terrible. Determined to complete these tees, I shopped around local print shops instead and settled on a print shop in a local independent market (Oasis Market in Birmingham) who printed the images onto the finished t-shirts for £8 per tee.
The jersey fabric for both tees is from Guthrie & Ghani. The grey is a slightly lighter weight and my favourite of the two, although the blue has the disadvantage that the front is cut in a different direction (across the grain) to the rest of the tee, due to me using the original front piece for my failed attempt at home image transfer and needing to make do with what fabric I had when re-cutting.
I'm wearing the tees here with a pair of Seamwork Manila Leggings which I made in 2016, and with one of the Axis Tanks I made last year (pictured on a different day below), originally for wearing around the house, but which have now also been co-opted as gym-wear.