Every other year, Birmingham Guild of Weavers, Spinners and Dyers holds a dyeing day and it's always one of my favourite meetings. It's held in a fellow guild member's garden, there's a constant pot of tea on the go, and all attendees bring along a contribution for the buffet lunch.
A range of natural dyes are available to try through the day. You bring along (mordanted) yarn, fibre or fabric, pop in it in the various dye pots, then see what results you get. This year, I prepared some 100% cotton fabric by cutting it into squares and mordanting it using alum. I'm planning to sew the squares back together to make a pair of patchwork shorts (as soon as I dye a few extra squares, I'm currently a few short!).
There's also acid dyes available, and the opportunity to dye fibre (for spinning) or sock yarn. I've never previously knitted any socks in 4ply sock yarn (only DK weight chunky socks), so decided on the day to create a self-striping sock yarn and knit myself some socks!
Luckily for the unprepared (and thanks to other guild members being prepared), white sock yarn tied into long 100g skeins is available to buy on the day. I bought a skein of yarn and selected pink and purple acid dyes for my socks. For the pattern, I used Arne & Carlos' The Easiest Sock in the World, which is knit toe-up and has an after-thought heel. I knit a first pair of socks using the pattern and still had lots of yarn left, so decided to knit a second pair. At the suggestion of the Guild Whatsapp group (I was just going to chance it), I weighed the remaining yarn against the finished pair of socks for reassurance, and then split the yarn into two separate balls of equal weight (one per sock) so that I could reduce the length of the socks if I was running low.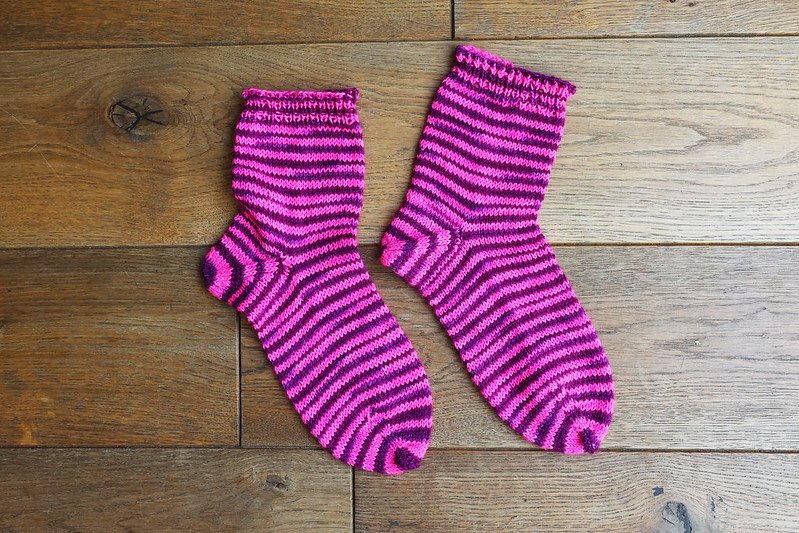 As it happened, I comfortably knit a second pair of socks and still have a small amount of yarn leftover. The pattern instructs you to keep adding stitches until you reach a suitable width for your foot; I'm a shoe size UK 4 and found that 13 stitches per needle (52 in total) worked for me. The pattern doesn't specify length of the ribbing at the top of the sock, I knit ten rows. With the second pair of socks finished, it's time to pick back up one of the three knitting projects I abandoned earlier this year / last year!